Online & Digital
Sponsored Articles
Annual quest to find the UK's fastest growing online retailers begins
As global e-commerce jumps to $26.7trn, one of the world's leading Retail Operating Systems is launching its search for the 'Lightning 50,' a league table of the UK's fastest growing e-commerce businesses from the last twelve months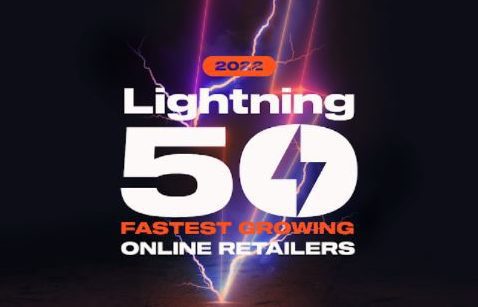 Despite restrictions easing, the pandemic appears to have altered our shopping habits forever. 
The boom in online shopping during the coronavirus pandemic has seen many of us become increasingly more comfortable shopping online, with global e-commerce jumping to $26.7trn (£20.4trn). 
New data from Brightpearl, a popular operating system for retailers, reveals the embedded nature of our new buying habits, with one fifth of Brits claiming they will only shop online in the next five years.
A search is now underway to recognise those UK e-commerce businesses that have thrived during the last year.
Entries are now open for the 'Lightning 50,' a definitive list of the fastest growing e-commerce companies in the UK. 
Brightpearl, which provides retail operations solutions for some of the world's biggest retail brands, such as Puma, Holland Cooper and Shopify, is launching the search to celebrate UK e-tailers which have grown the most during the past 12 months. 
Online businesses who have seen huge growth over the past year are being invited to register to be in for a chance of inclusion in the final list. Firms can enter here: Lightning 50 – Brightpearl and entries close on 12th August 2022.
Swansea-based premium drink brand, Au Vodka, was revealed as the UK's fastest growing online brand in the 2021 edition of the league table.
Au Vodka finished top of the list, with a staggering net growth of more than 10,000%. Au Vodka is a luxury vodka brand and is owned by Welsh duo Charlie Morgan and Jackson Quinn, and partially owned by DJ, producer and TV presenter, Charlie Sloth. 
In terms of the sectors which appeared most in last year's list, 'Fashion & Footwear' and 'Homewares' were on top, with each category recording a total of nine brands in the top 50 (36%). 
Delving further into the data, Brightpearl discovered that the South West is a booming region for e-commerce. This area had the greatest proportion of brands represented in the list with almost one in five (18%) of the fastest growing e-commerce brands based there, including popular brands like Furniturebox, Holland Cooper and Truffle Shuffle.
The Lightning 50 researchers tracked growth rates for hundreds of companies across England, Wales, Scotland and Northern Ireland.
The combined revenue across the Lightning 50 over the past year saw UK brands earn more than £340m, with the average growth rate for online retailers at 518%.
This year alone, online retailers have been seeing year-on-year sales increases of upwards of 700%, according to internal research from Brightpearl's 3,000 strong customer base.
Brightpearl is now seeking to reveal the definitive league table of the fastest growing online retailers for 2022. It's free for businesses to enter, and open to e-commerce businesses with annual turnovers from £1M-£250M. Firms must submit two full years of revenue data for 2020 and 2021 to be eligible for the Lightning 50 which is set to be revealed later this year. 
Brightpearl CMO Sara Arthrell said: "It's truly the Hyper-Scalable era of e-commerce – our data shows many online retailers reporting incredible growth rates and having huge success over the past 12 months.
"There has been a big shift to online shopping since the onset of the pandemic, and online deliveries have been one of the consistent highlights for people, even as Covid-restrictions have ebbed and flowed. We want to use the Lightning 50 to celebrate and shine a light on some of the incredible work online firms have been doing throughout the pandemic."
She added: "The Lightning 50 only takes into account one metric when scoring businesses – growth. We encourage any high growth brand to enter so they can get the recognition they deserve."
Speaking on winning the Lightning 50 last year, Jordan Major, Head of E-Commerce, Au Vodka, said: "Winning the Lightning 50 has given us the chance to step back for a brief moment and see that we've achieved something that's pretty awesome.
"Finding out we had made it onto Brightpearl's Lightning 50 was a huge moment for us — we were so excited and proud," adds Hubert Kosc, Managing Director of Arthauss, a fast-growing furniture brand who ranked 42 on last year's Lightning 50. "My mum, who co-founded the business, was almost in tears when I told her — tears of joy, that is. Featuring in the Lightning 50 has been the ultimate reward after years of hard work."
Entries are now open for the 2022 edition of the 'Lightning 50' here: brightpearl.com/lightning-50
Bristol-based Brightpearl works with thousands of retailers introducing software that puts orders, inventory, financials, POS (point of sale) and CRM (customer relationship management) in one place.